Get to know … Beverly Masini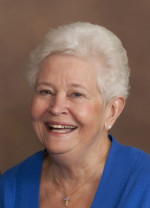 Beverly Masini has served on BHR's Foundation Board for more than 14 years. Her dedication to BHR is the result of her long-time career in occupational health nursing. There she witnessed firsthand how difficult it was for clients to gain access to the services they needed. According to Bev, "I feel very strongly that a healthy community includes quality mental health and addiction recovery services and that is what BHR is all about. With funding for these services not always at the top of the priorities list, I decided to say "yes" when asked to join the Foundation Board.  Perhaps I could help make a difference in the lives of folks who have found themselves in need of services and struggling to gain access."
Bev certainly has helped make a difference! She has been instrumental in making BHR's two annual events – the annual dinner and auction in spring, and Phoenix Awards ceremony in the fall – a success. "As we approach BHR's Annual Dinner and Auction I feel an even greater impetus to get folks engaged and excited about supporting this non-profit that has the potential to make lives better and our community more responsive to the needs of others."
As a member of the Zonta Club of South Puget Sound, she has also supported BHR's Harvest program and Harvest Home for pregnant and parenting women.  Zonta's mission to improve the lives of women made Harvest a perfect fit. Zonta members have donated countless boxes of diapers, personal care and household items, books for therapy groups, bedding for Harvest Home, as well as monetary support. In addition, the RITS (Recovery Integrated Treatment Services) program received companion therapy pets for its clients experiencing significant mental health and substance use issues. In 2018, BHR honored Zonta for their tireless work on behalf of our clients with a Phoenix Award.
According to Bev, to be an effective board member it is helpful to have knowledge of the community, and some professional, intellectual or personal experience with chemical dependency and mental illness. "BHR is an extremely vital and valuable agency to have in our community and other communities because they provide comprehensive care. It's not only for the clients, but also for the families of clients. They often don't know what to do with the situation they find themselves in. BHR has both quality of skilled professionals and the ability to engage family members around these difficult issues. BHR's environment is one that welcomes all people, men, women, children and supports them in a manner that allows them to deal with their issues and move on to become a more healthy individual and able to function in society. I am very proud to volunteer for this organization."
Bev was born in Excelsior, Minnesota, and moved to Olympia in 1983. She loves to spend time with her grandkids, play the piano and organ, and, to the utter dismay of her husband, immerse herself in murder mysteries.