In 1995, the Community Mental Health Foundation was created as a Washington State non-profit corporation. In 2015 it changed its name to Behavioral Health Resources Foundation. Its mission is to "facilitate the solicitation, recognition and management of charitable gifts in support of Behavioral Health Resources".
The board is comprised of (com)passionate volunteers who raise local and regional funds to support BHR programs and create fundraising events and activities that assist programs and celebrate our donors. The board was instrumental in raising funds for Harvest Home, the only residential facility for pregnant and parenting women struggling with mental illness and substance use disorder in Thurston and Mason counties, which opened in January 2019 (see photos).
President: Laurie Berryman
Treasurer: Bron Lindgren
Board members: Lowell Gordon, Heather Hahn, Beverly Masini, Kathy Perciful, Janice Mack Talcott, Jason Vatne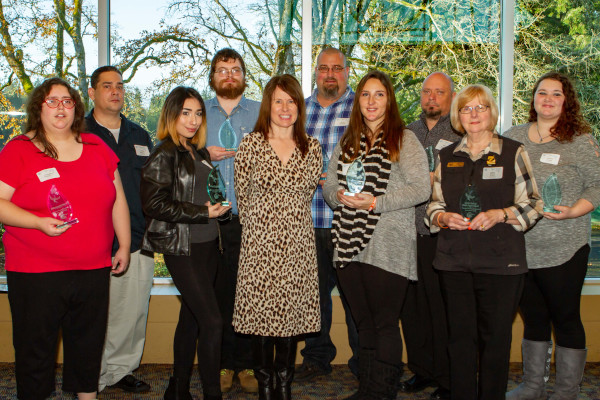 BHR Foundation Board President Laurie Berryman and the 2018 Phoenix Awards recipients, celebrating those who have overcome the challenges of mental illness and/or substance use disorder.